Tip and Tricks?
this recipe can be done with other fishes such as cod etc…
 *The little element that makes a difference?
Well, as there are different elements to lay on the plate, you can play with the colours and the layers which gives a "gastronomy" look to your meal!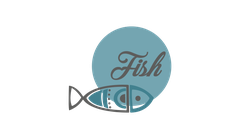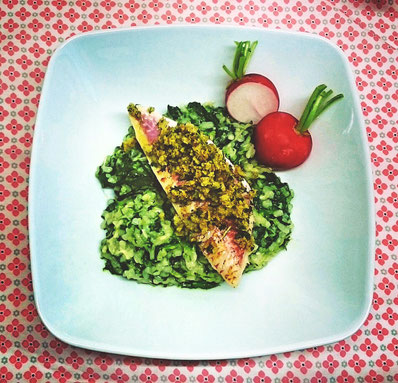 ---
For 4 servings
Ingredients to be prepared:
600g red mullet filets 
250g risotto rice  
200 g baby spinach 
80 g Parmesan cheese grated 
1 lime zest finely grated 
1 shallot sliced 
2 garlic cloves pressed 
2 stalks parsley chopped 
100g of fresh bread-crumb 
2 of vegetables' cube 
10g butter 
4 soup spoon olive oil 
Salt and pepper.
Preparation:
Preheat the oven on 180°C.
Heat the shallot and the garlic in 10g of butter 5 minutes in a pan. 
Prepare 1dl of broth with 2 stock cubes of vegetables. 
Add 250g of  risotto rice  into the pan, mix 1 min, then add1 ladle of broth. Add some broth little by little, as it will be absorbed by the rice. Count approximately 20 min of cooking on very soft fire. (verify the indications on the package of the rice)
Meanwhile, lay down red mullet filets in an oiled oven dish, season them and drizzle them with olive oil. Mix 100g bread-crumb, the garlic glove, the parsley, the zest of the lime, the salt and the pepper and the soupspoon of olive oil. Spread generously this mixture on the top of the filets and cook them 15 min in the oven.
Plunge the spinach into a pan filled with boiling water and drain them after 1 min of cooking. Mix them finely and add them in the risotto. Also add the rest of the butter and Parmesan cheese. Let rest 30secondes and mix. Rectify the seasoning.
Now! Shall YOU try this recipe? if you wish to review or rate that recipe then bellow is for you.