Tip and Tricks?
*Idea for the children four o'clock snack. 
You can even do a fruits' smoothie to go with it!
*The small element which makes the big difference? 
The biscuit is not too sweet but at the same time gives lots of energy!.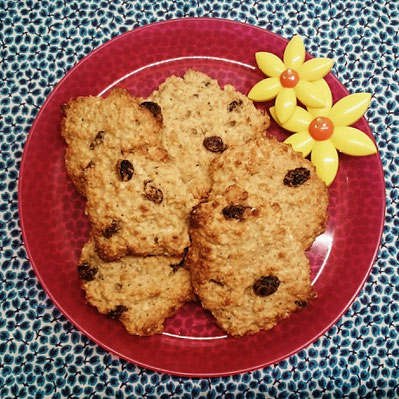 ---
For approx.5 biscuits
Ingredients to be prepared
A.
60g of sugar 
100g of oat 
120g of flour 
1 egg
1.5dl of vegetal oil 
2 tea  spoon  of dry raisins
1dl of apple juice 
Preparation:
Preheat the oven on 180°C.
Mix all the ingredients A starting with the dry ingredients.
Create balls aith your hands and flatten them to make a biscuit.shape.
Prepare an oven plate with some cooking paper.
Display the cookies next to each other and put in the oven 15 minutes.
Now! Shall YOU try this recipe? if you wish to review or rate that recipe then bellow is for you.