*Tip and Tricks?
Those burgers can be eaten  as a main course with a salad, but also as dips for the aperitif.
Besides they are still good cold!
*The small element which makes the big difference? 
The taste of the mint is really fresh! 
The use of walnuts and dried fruits that are super healthy.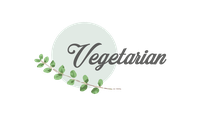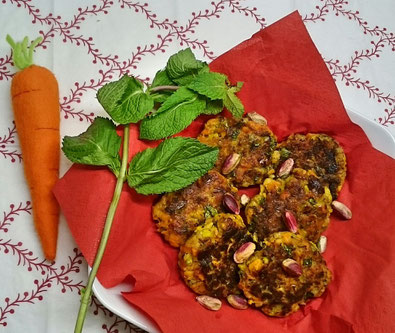 ---
For 4 servings,  that is 12 burgers
Ingredients to be prepared
A. 
4 soup spoon of olive oil
1 average size chopped onion
B. 
250 g of carrots sliced thinly 
250 g of sweet potatoes sliced thinly
100 gr of pistachio nuts 
2 cloves of garlic sliced thinly 
Salt and pepper
C. 
75 g of dry  apricot 
50 g of raisins 
D. 
3 soupspoon of flat-leaved parsley
3 soup poon of fresh mint 
2 soup spoon of fresh bread-crumb 
1 egg yolk 
40 g of flour 
Salt and pepper 
30 cl of sunflower oil
E.
For the sauce: 
1 yogurt nature 
125 g Fresh mint chiseled
Salt and pepper
Preparation:
In a big pan heat products A, during 5 minutes over medium heat.
Add products B. Leave it cook under cover during 30 minutes, until the vegetables become soft and caramelized. Continue another 10minutes with no cover to evaporate the remaining liquid.
Off the heat, mix A+B+C and chop everything in a blender. 
Add ingredients D. Cover and to let it rest for about one hour in the refrigerator.
Prepare the sauce by mixing all the ingredients of the list E
Make pancakes of the size of a golf ball and grill them on each side in the sunflower oil until that they have a beautiful color.
Now! Shall YOU try this recipe? if you wish to review or rate that recipe then bellow is for you.