The small element that makes the difference?
As you need quite much of pumpkin for that recipe it is ideal to make when Halloween is not far when you empty one for the event!
You can decide to mix the ingredients for the filling and  to obtain a smooth quiche  or to keep pieces and to obtain a more peasant quiche! 
Tip and Tricks?
The marriage between the taste of the pumpkin, the bacon, the dried tomatoes and the goat cheese!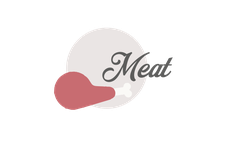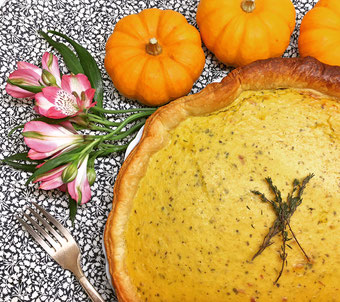 ---
For 4 people
Ingredients to prepared
1 puff paste 
A.
250g of bacon, 
2 garlics cloves  sliced thinly
1  onion sliced thinly
B.
500 g  pumpkin flesh
1 soup spoon olive oil
1 soup spoon dried oregano
1 coffee spoon paprika
Salt and pepper
C.
50 g soft goat cheese
3 coffee spoon natural yogurt, 
4 eggs
8 dried tomatoes  in oil cut in small pieces 
Preparation:
Preheat the oven on 200 °. Precook the puff paste during 15 minutes in the oven.
For that lay the dough in a 22 cm pie plate. Beforehand spread butter and flower the plate. Cover with baking paper, and dry beans on top  and put in the oven!
Meanwhile cook the bacon in a pan without fat and add the ingredients of the list A. Until they are translucent.
Add the ingredients of the list B. and simmer for 15 minutes covered.
On the photo the filling was mixed! The second option with the pieces is explained below. Mix with  the vegetables  all ingredients of the list C. Incorporate the dried pieces of tomatoes,  pour the filling on the bottom of the tart. 
Slide in the oven for 45 minutes!
PS: for the more peasant version with pieces, lay the vegetables (A+B) on the tart. Beat the elements of the list C together. Pour that milky mixture on top of the tart, and lay the dried tomatoes on top. Put in the oven!
Now! Shall YOU try this recipe? if you wish to review or rate that recipe then bellow is for you.