What if you would win one million euros?
What would you do!?
Allow yourself to dream big! 
Write a list of things you would do with the money!
You might loose your head a bit if you do win and might become handy to follow a to do list!;-)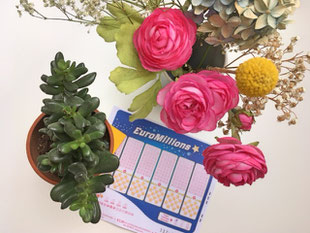 ---
 Meditation helps me realizing I do not need to win the lottery to live the life I want! Just look at one thing you thought you would do if you win! And ask yourself why are you not doing it anyway?
Life is short. Life is Now! What can you do yourself to get what you want? There is certainly things! You should be able to name things that would allow you to get closer to them. Then just do it!
You need to know your mind will work against you: You will have (if you did not have them already?) a lot of "yes but" , scary thoughts, and bad vibes that will keep you doing what you could do along the way! Let them be!leave them aside! They will always be there what ever you do! Just do it! Start with something. I am not saying you will achieve your dream but you will live being on the right path for them to get them true! This is what matters!That is what your life is about!
You are the winner of the lottery! You might just know it! You are alive! Now! You can decide...
Cards are in your hands and you know what? Nothing forbids you to also try to win at the lottery in the same time! I did! LOL!
Now? What are your dreams like? if you wish to tell us about them or comment my article bellow, the space above is for you.