*The small element which makes the big difference? 
*The subtle taste of cloves in the onion.
 *Quick to make and so good for everyone...Big and small.
  Tip and Tricks?
*Super idea to mix fish bacon with fish that makes the recipe very tasty.
*If you have a bit of left over of the sauce, you can mix it with a fork and spread on bred...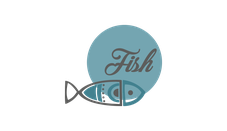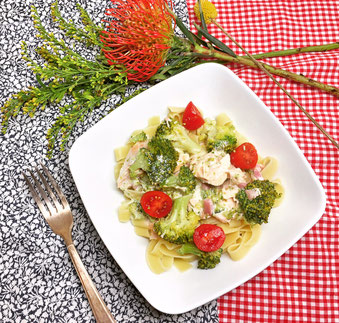 ---
For 4 people,
Ingredients to be prepared
 4 steaks of salmon
100 g smoked bacon
700 g  broccoli cut in small pieces
the juice of a lemon
1 onion
250 g  mascarpone
500 g of parpadelles
3 dl of dry white wine
2 cloves
salt peppers
Preparation:
 Preheat the oven on 200°C.
Prick cloves in the peeled onion and put it in an oven dish with the steaks of salmon. Spray the fish with white wine and lemon juice.
Salt and pepper.
Slide the dish 35 min in the preheated oven.
Meanwhile, steam the broccoli 15 minutes. Drain and pass under the cold water.
Briefly cook bacon in a frying pan, without fat (they should not become too crisp). Reserve outside the frying pan.
Remove the steaks of salmon of the dish and let cool them for a few minutes. Cut them in 3 cm pieces approximately. Remove the onion of the dish.
Add the juice from the fish plate into the frying pan and stir it with a wooden spoon until  juices reduces of half quantity . Add the mascarpone and stir until completely melted.
Add salt and pepper.
Meanwhile cook parpadelles in some slightly salted boiling water. Drain.
And to finish, integrate the pieces of salmon, bacon, and brocoli into the sauce. Heat at a medium temperature. 
Lay that sauce on top of the pasta! You can decorate with some tomatoes sliced.
Now! Shall YOU try this recipe? if you wish to review or rate that recipe then bellow is for you.