Tip and Tricks?
Prepare all ingredients as explained down bellow before starting. Such a quick and delicious recipe then.
*Mushrooms can be cooked as in the recipe bellow or added raw in the same time as the mango and avocado.
 *The little element that makes a difference?
 *The mixture of cold and  warmth in the same plate.
*the tastes of those nice elements together...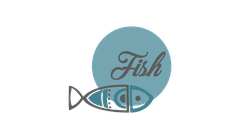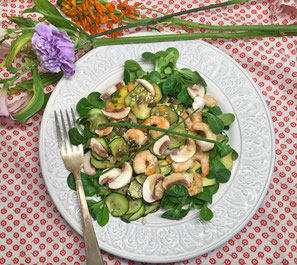 ---
For 4 servings
Ingredients to be prepared:
A:
2 red onions sliced fine.
1 zucchini washed and sliced fine with the mandolin
10 paris mushrooms cut in small strips
500 g of small scampi peeled and washed
1 soup spoon of olive oil for the frying pan
salt and pepper
B:
1 half lemon juice freshly squeezed 
2 soup spoons balsamic vinegar  
4 soup spoons olive oil
1/4 plant chive finely chiseled 
150 g lambs lettuce  washed and drained 
2 avocados cut in 1 cm dice approximately
1 mango cut in 1 cm dice approximately
2  soup spoons of sunflower seeds and 1 soup spoon of sesame seeds roasted in the frying pan without fat ... (careful it goes fast once the pan is warm!)
Preparation:
With the ingredients of the list A:
Fry gently the zucchinis slices as well as the onion in the olive oil. Once transparent, add a pinch of salt and pepper. Add the mushrooms and scampis in a brisk heat approximately 3 minutes. Stir delicately from time to time.
Mix all the ingredients of the list B in the order to make the vinaigrette.
On plates, place in the order: the salad,  the cubes of avocados and mango, the warm mixture A, the vinaigrette and sprinkle with the seeds on top to finish...
Now! Shall YOU try this recipe? if you wish to review or rate that recipe then bellow is for you.