Tip and Tricks?
 *This light meal is using varied ingredients which makes it a very healthy meal!
The cooked quinoa can be mixed in the stuffing as on the photo or served apart.
*The small element which makes the big difference? 
The surprising mixture of  the cheese, the soya  sauce, hazelnuts and  curry... So good!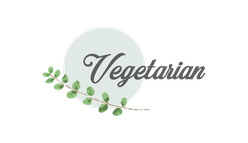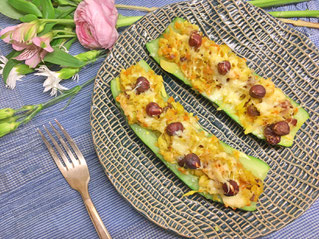 ---
For 4 people,
Ingredients to be prepared
4 zucchinis not peeled cut in 2 lengthwise.
Take the flesh out  with a spoon until ± 1 cm of the skin. Steam the zucchinis 5 minutes 
Slice thinly the flesh.
2 carrot grated and cut finely
2 white leeks washed and cut finely
1 red onion sliced thinly 
100 g Emmenthal cheese grated
300 g quinoa rinsed in cold water.
120 g hazelnuts chopped 
4 tbsp raisins
4 tbsp olive oil
1 tbsp sauce soya
2 coffee spoon curry powder
Salt and pepper
Preparation:
Preheat the oven  180 °C.
Heat the olive oil in a pan and add the onion until it is translucent. Add the curry, the carrots, leeks and flesh of the zucchinis. Cook 5 min. Turn regularly. 
Integrate the hazelnuts, raisins and sauce soya. Salt and pepper.
Distribute the stuffing on the half-zucchinis and strew with grated cheese. Slide 15 min in the preheated oven.
Cook the quinoa in some boiling slightly salted water (see cooking time on the packaging). Drain.
Now! Shall YOU try this recipe? if you wish to review or rate that recipe then bellow is for you.